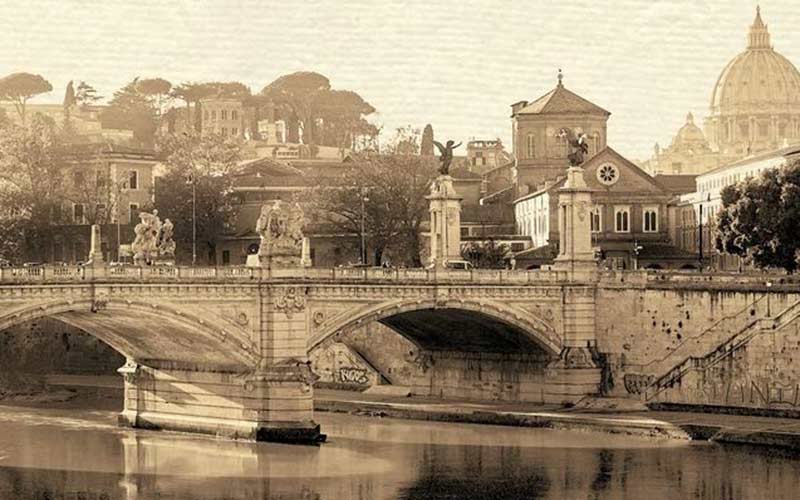 Travel is always transformative. Whether a modest passage from one place to another or a life-altering journey, we chronicle our trips in words, images and music. In this group, we consider how women – currently and historically – document travel in diverse forms.
OVERVIEW
This fall, we will read first-person accounts by women traveling in the mid-twentieth century (c. 1920-1960). Vita Sackville-West snapped numerous photographs during her meandering journey to and from Persia (Iran) in 1926. Sybille Bedford chronicled a detour through Mexico via New York before returning to Europe in the aftermath of WWII. Eleanor Clark was captivated by the art and architecture of Rome, abandoning plans to write a novel to craft sketches of the cultural life of the city. And, Dervla Murphy rode at full tilt from Ireland to India on a bicycle, fulfilling a childhood dream. Join us – and them – for a transformative experience!
MEETING AND READING SCHEDULE
Women, Art, Travel, Transformation meets on the fourth Tuesday of the month, 5:30-7pm at the Athenæum
*VIRTUAL MEETING* Tues, September 28 | Passenger to Teheran, Vita Sackville-West (introduction by Nigel Nicolson)
In 1926 Vita Sackville-West travelled to Iran to visit her husband, Harold Nicolson, who was serving as a diplomat in Teheran. Her route was deliberately slow-paced – she stopped in Egypt, where she sailed up the Nile to Luxor; and India, where she visited New Delhi and Agra before sailing across the Persian Gulf to Iraq and on through bandit-infested mountains to Teheran. She returned to England in an equally circuitous manner and despite travelling under dangerous circumstances, through communist Russia and Poland in the midst of revolution, her humour and sense of adventure never failed. Passenger to Teheran is a classic work, revealing the lesser-known side of one of the twentieth century's most luminous authors.
Tues, October 26 | A Visit to Don Otavio: A Mexican Journey, Sybille Bedford (introduction by Bruce Chatwin)
In the mid-1940s, Sybille Bedford set off from Grand Central Station for Mexico, accompanied by her friend E., a hamper of food and drink (Virginia ham, cherries, watercress, a flute of bread, Portuguese rosé), books, a writing board, and paper. Her resulting travelogue captures the violent beauty of the country she visited. Bedford doesn't so much describe Mexico as take the reader there—in second-class motor buses over thousands of miles, through arid noons and frigid nights, successions of comida corrida, botched excursions to the coast, conversations recorded verbatim, hilarious observations, and fascinating digressions into murky histories. At the heart of the book is the Don Otavio of the title, the travelers' gracious host, his garrulous family and friends, and his Edenic hacienda at Lake Chapala. Published in 1953, A Visit to Don Otavio was an immediate success, "a travel book written by a novelist," as Bedford described it, establishing her reputation as a nonpareil writer.
Tues, November 23 | Rome and a Villa, Eleanor Clark
In 1947 a young American woman named Eleanor Clark went to Rome on a Guggenheim fellowship to write a novel. But instead of a novel, Clark created a series of sketches of Roman life written mostly between 1948 and 1951. Wandering the streets of this legendary city, Eleanor fell under Rome's spell—its pace of life, the wry outlook of its men and women, its magnificent history and breathtaking contribution to world culture. Rome is life itself – a sensuous, hectic, chaotic, and utterly fascinating blend of the comic and the tragic. Clark highlights Roman art and architecture, including Hadrian's Villa – an enormous, unfinished palace—as a prism to view the city and its history, and offers a lovely portrait of the Cimitero acattolico – long known as the Protestant cemetery – where Keats, Shelley, and other foreign notables rest.
Tues, December 28 | Full Tilt: Ireland to India with a Bicycle, Dervla Murphy
In 1963 Murphy set off on her first long-distance bicycle tour, a self-supported trip from Ireland to India. Taking a pistol along with other equipment aboard her Armstrong Cadet men's bicycle (named Rozinante in allusion to Don Quixote's steed, and always known as Roz), she passed through Europe during one of the worst winters in years. In Yugoslavia, Murphy began to write a journal instead of mailing letters. In Iran she used her gun to frighten off a group of thieves, and "used unprintable tactics" to escape from an attempted rapist at a police station. She received her worst injury of the journey on a bus in Afghanistan, when a rifle butt hit her and fractured three ribs; however, this only delayed her for a short while. She wrote appreciatively about the landscape and people of Afghanistan, calling herself "Afghanatical" and claiming that the Afghan "is a man after my own heart". In Pakistan, she visited Swat (where she was a guest of the last wali, Miangul Aurangzeb) and the mountain area of Gilgit. The final leg of her trip took her through the Punjab region and over the border to India towards Delhi. Her journal was later published by John Murray in 1965.
GROUP FACILITATOR
Suzanne Scanlan is an art historian and Senior Lecturer in Theory, History of Art and Design at RISD. She received her PhD in History of Art and Architecture from Brown University and is the author of Divine and Demonic Imagery at Tor de'Specchi: Religious Women and Art in 15th-century Rome. Suzanne lives in Providence and is currently writing a book on the art and travels of the American modern painter and printmaker, Esther Pressoir.
This group has reached capacity. To be added to a waitlist, please email readinggroups@provath.org with TRAVEL as the subject line.
The Athenæum is deeply grateful to our wonderful volunteer leaders. Please note library reading groups are not classes or courses, but rather a way for individuals to discuss readings together, guided by both expert and amateur enthusiasts. Participants should expect discussion-based, not lecture-style meetings.